Key & Equipment Management Systems
Keys of all kinds have accompanied humans for a long time, securing premises and goods from unauthorized access.  Key and equipment management systems provide innovative solutions in traditional problems, by saving human resources and providing total control and security policy compliance.
Intelligent key management systems integrate with numerous existing access control systems for seamless and efficient control.
These systems are particularly suitable for environments where multiple keys and complex procedures are required, such as Banks, Organizations, airports, hospitals, and hotels.
Selected
products
Key & Equipment Management Systems
Traka Touch
Traka intelligent key management systems secure, manage and audit the use of every key for almost any physical asset, including premises, devices, secure areas, equipment, machinery and vehicles.
Flick through the Catalogue by clicking here or contact us and our experts will guide you through the selection process and find the best solution for your needs.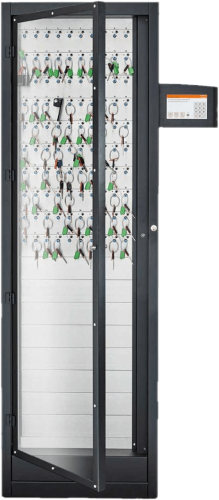 Traka Lockers
Traka's intelligent locker systems enable you to maintain total control, by determining who can access your valuable assets (laptops, tablets, phones, radios, weapons, medications and more).
For more information, click here.